Alpha.Crackling
Attributes
Primary Attribute
Agility
Strength
30 (+4)
Agility
31 (+7)
Intelligence
29 (+4)
Stats
Starting Health
250
Starting Energy
??
Base Armor
??
Movement Speed
3.00
Base Damage
51.5
Attack Speed
1.7
Attack Range
1.25
Sight Range
12
Gameplay
Difficulty
??
Role
DPS
Implementation
Status
Current
Misc
Alignment
Chaotic Evil
Introduction
Lore: Numerous scars tear across Alpha's soft flesh as a dear illustration of his chaotic mind. With a weak body and a broken mind, he leads creature of similar disposition to the forefront of battle.
Alpha is followed by a swarm of Zerglings that put out a substantial amount of damage. Weaken your foes from a distance with Acid Volley and go for the kill with all the fury of the swarm.
Skills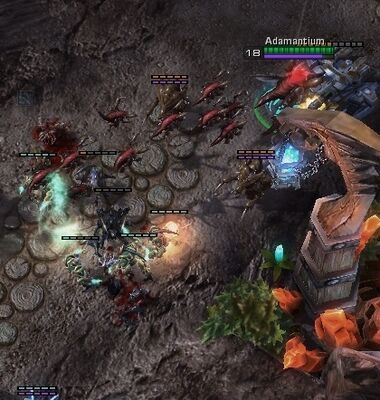 Strategy
See Strategy
A ferocious assassin, Crackling is meant to jump behind the enemy lines and take out the squishy targets. Combo his Q, W, and E correctly to deal the maximum amount of damage necessary to one-shot heroes. Max out E for early game damage followed by Q and W. Run 1-3-2 Talents getting Might, Health, Zeal, Armor, Cooldown Reduction, and Swiftness.