Jurassic World: Dominion Dominates Fandom Wikis - The Loop
Play Sound
Feral.Terminus
Attributes
Primary Attribute
Agility
Strength
32 (+6)
Agility
29 (+5)
Intelligence
29 (+5)
Stats
Starting Health
250
Starting Energy
??
Base Armor
??
Movement Speed
3.00
Base Damage
60
Attack Speed
2
Attack Range
1.25
Sight Range
12
Gameplay
Difficulty
??
Role
DPS
Implementation
Status
Current
Misc
Alignment
Chaotic Evil
Introduction
Lore: As the protectorate of Kerrigan's Lieutenant Cerebrate during the Brood Wars, Terminus has laid waste to vast armies of Terrans and Protoss. Now in the Sanctum, he seeks to avenge his fallen master by littering the sacred grounds with the impaled corpses of his enemies.
His newly evolved carapace boasts additional spines capable of shredding and lacerating enemies, which when combined with a fully expanded metabolism helps make this once primordial guardian a brutal executioner.
Skills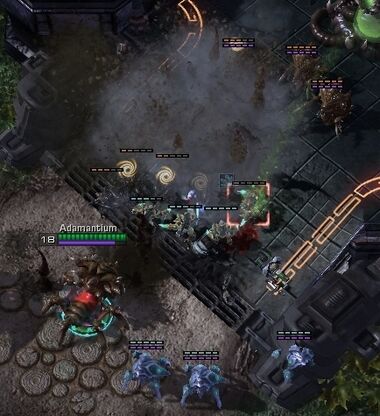 Strategy
See Strategy
Feral is a speedly hero that can be played int or autoattack. While he must be burrowed to autoattack anything, he has the unique mechanic of a linear AoE attack, that also procs all on-hit effects on every target. On the other hand, his togglable R allows him a kiting mechanism that deals constant, semi-random AoE damage around him, allowing him to be considered an int caster carry. Max his Q first for the extra damage it offers, and note that his ult is fairly weak and expensive unless he is built int. Run talents depending on the direction you intend to build him.