Jurassic World: Dominion Dominates Fandom Wikis - The Loop
Play Sound
Garamond.Singsprocket
Attributes
Primary Attribute
Intelligence
Strength
28 (+5)
Agility
26 (+4)
Intelligence
36 (+6)
Stats
Starting Health
250
Starting Energy
??
Base Armor
??
Movement Speed
2.80
Base Damage
53
Attack Speed
1.8
Attack Range
7
Sight Range
12
Gameplay
Difficulty
??
Role
Support
Implementation
Status
Current
Misc
Alignment
Neutral Good
Introduction
Lore: A scrappy engineer who is known for overdesigning even the most rudimentary tools, Garamond was employed by the Moebius Foundation shortly after destroying a city block with an overspecced butter knife.
Garamond operates a VASTLY overspecced Mule, equipped with a SCV production facility and gallons of oil to spare. He supports the forward ranks with expendable machines, allowing his allies to push into enemy battlements with ease.
Skills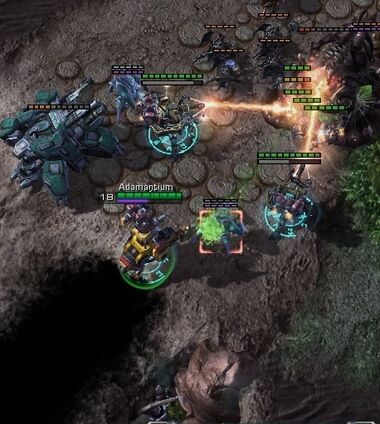 Strategy
See Strategy
A mule with a unique attack mechanism that throws controllable scvs at your target, Garamond is a burst caster/pusher whose full combo can devistate most heroes. Max your seeker missles first for the extra stun and damage, and practice the timing to hit them. Use your missles and oilspill to land your ult. Do not underestimate the damage your max level towers are capable of. Note that even if your ult'd scvs are killed, they still explode and deal damage. Run 0/3/3 talents, taking health, armor, cooldown, energy regen, and movespeed, or 0/2/4 talents if you opt for transport.