Hybrid.MAAR
Attributes
Primary Attribute
Intelligence
Strength
28 (+4)
Agility
28 (+4)
Intelligence
34 (+7)
Stats
Starting Health
250
Starting Energy
??
Base Armor
??
Movement Speed
2.80
Base Damage
47
Attack Speed
1.9
Attack Range
6
Sight Range
12
Gameplay
Difficulty
??
Role
DPS
Implementation
Status
Current
Misc
Alignment
Chaotic Evil
Introduction
Lore: One of the first Hybrids created by the Dark Voice, Maar's sole purpose is absolute obedience, a price for immeasurable power sapped straight from the Void. Serving as a link between the Protoss and Zerg minds, Maar commands a versatile array of powers.
Maar's arsenal of powers make him a versatile striker that strengthens his allies in every way imaginable. From bombardments, restorative energies, and area dominance, Maar's relentless flurry of spells give confidence to his forces and instills fear in his enemies.
Skills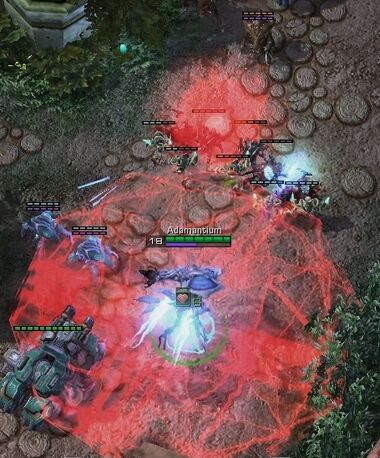 Consumed Skills
Strategy
See Strategy
Maar is a situational caster carry/support with insane late game damage potential from the low cooldowns on his damage skills. He suffers mana problems until late game, but also farms very easily throughout due to his AoE pressence. Keep your distance and shoot double Red fireballs, and maintain a double Red + Blue aura around yourself at all times for the kiting and escape it offers. Maar fails without a frontline loaded with crowdcontrol to keep enemies from diving him - heroes such as jackson, lord zyrkhan, and micro make for excellent allies. Run 0/3/3 talents, taking health, armor, cooldown, energy regen, and movespeed.