Jakk.Summers
Attributes
Primary Attribute
Intelligence
Strength
29 (+4)
Agility
36 (+4)
Intelligence
25 (+7)
Stats
Starting Health
250
Starting Energy
??
Base Armor
??
Movement Speed
3.15
Base Damage
41.5
Attack Speed
1.75
Attack Range
6.5
Sight Range
12
Gameplay
Difficulty
??
Role
Support
Implementation
Status
Current
Misc
Alignment
Chaotic Neutral
Introduction
Lore: Jakk was a Confederate security guard for the Old Families' scions off-world. He guarded them at a resort on Tyrador IX until the Fall of Tarsonis. Arturro Calabras, the sponsor for the expedition, ordered them to flee to Shi, the fourth planet of the Baker's Dozen.
Jakk is equipped with an arsenal of field equipment that focus on area denial and map control. Enemies will fear the earth itself once Jakk has spent sufficient time preparing his traps.
Skills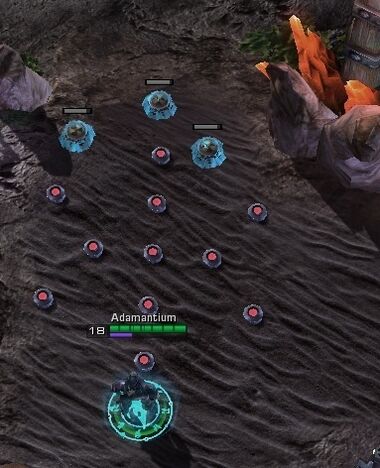 Strategy
See Strategy
Summers is an early game lane bully who can farm with ease and provide free wards and great map control with his high mobility and mines. He can take any lane solo, and combos excellently with a pull such as brines, as his E Minefield has huge damage potential. Use his E Snipe to harrass whenever possible, and use his laser rifle when last hitting/denying for the extra bit of energy. Max E first. Learn the enemy's movement patterns to score easy kills with your R, though it is very weak until level 11. Run 2/2/2 talents, taking weapon damage, spell damage, health, armor, cooldown, and energy regen.