Jurassic World: Dominion Dominates Fandom Wikis - The Loop
Play Sound
Molgloo.Grunty
Attributes
Primary Attribute
Agility
Strength
32 (+5)
Agility
33 (+6)
Intelligence
25 (+4)
Stats
Starting Health
225
Starting Energy
??
Base Armor
??
Movement Speed
2.80
Base Damage
50
Attack Speed
1.8
Attack Range
3.5
Sight Range
12
Gameplay
Difficulty
??
Role
DPS
Implementation
Status
Current
Misc
Alignment
Neutral Good
Introduction
Lore: After the Arakkoa takeover of Sketti land, Grunty found himself with no home or family in the Outlands. During Raynor's brief visit to Shattrath, he found Grunty crawling across the Bone Wastes and decided to take him along to the outer reaches of space.
Grunty has adapted well to interstellar weaponry, swearing never again to find himself defenseless against the elements. He is equipped with a full arsenal of standard weaponry from stasis traps to rocket propelled inflatable Tychus explodables, which Raynor had armed him with hilarious effect.
Skills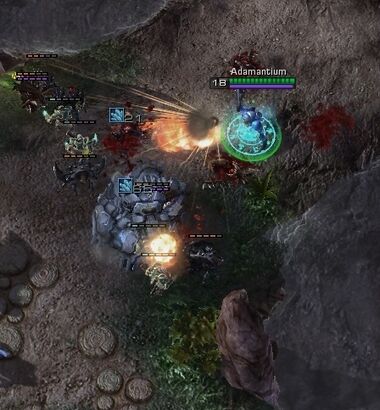 Strategy
See Strategy
King of the River, Grunty is a short ranged autoattack carry with passive AoE Truedamage. He can farm quickly due to his Q, but suffers horrible mana problems. Max E first for the extra burst damage, and because leveling Q increases mana cost with negligible damage increase. Grunty has a hard time mid versus other carries who have longer range, but excels in the jungle where he can gank from anywhere on the map with a 5 second stun on his E. Keep in mind your Q is AoE physical for lifesteal. Take 3/1/2 talents, with attack damage, attack speed, lifesteal, health, energy and energy regen.