Roulette.Jackson
Attributes
Primary Attribute
Intelligence
Strength
27 (+5)
Agility
29 (+4)
Intelligence
34 (+6)
Stats
Starting Health
250
Starting Energy
??
Base Armor
??
Movement Speed
2.80
Base Damage
50
Attack Speed
1.9
Attack Range
5
Sight Range
12
Gameplay
Difficulty
??
Role
Initiator
Implementation
Status
Current
Misc
Alignment
Lawful Evil
Introduction
Lore: A nameless scientist, Jackson eludes the warriors of the battlefront unnoticed. Unbeknownst to those who do not recognize the consequences of his presence, Jackson commands the very epidemics that they believe him to be victim to.
Jackson's suit allows him to manipulate the polarity of electrons in the atmosphere, giving him more control over electricity and magnetism. With this he can disrupt the operation of weapons, as well as immobilize biological structures with radiation.
Skills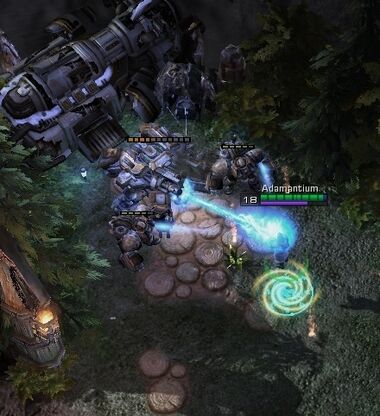 Strategy
See Strategy
Mastermind of teamfights, Jackson is tanky initiator who sets up engagements perfect for followup AoE wreckage. In lane, he combos exceptionally with any pluck, stun, or slow - for example, Micro. Max E first for the extra AoE damage unless able to keep a target in your Q beam for the full duration. In teamfights, watch for any opportunity to blink in and ult+silence multiple priority targets. Communicate with your team so they follow up. Note: be brave as Jackson. Run 0/3/3 talents taking health, armor, zeal, cooldown, energy regen, and wealth.