Toximancer.Vespus
Attributes
Primary Attribute
Agility
Strength
27 (+5)
Agility
28 (+6)
Intelligence
19 (+5)
Stats
Starting Health
250
Starting Energy
??
Base Armor
??
Movement Speed
2.80
Base Damage
46
Attack Speed
1.8
Attack Range
6
Sight Range
12
Gameplay
Difficulty
??
Role
DPS
Implementation
Status
Current
Misc
Alignment
Chaotic Evil
Introduction
Lore: Zerg development of creatures with new forms of resilience have resulted in the Toximancer. First appearing on Sanctum, Vespus finds immediate purpose in his existence as he plunged directly into combat in the midst of an epidemic.
Toxi's ability to passively kite enemies and chase makes him an excellent ganker and carry. His Toxic Tornado allows him to be a very strong presence in teamfights.
Skills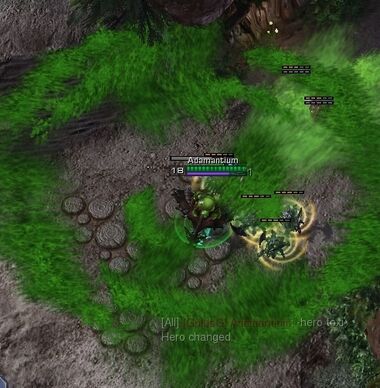 Strategy
See Strategy
Toxi is a ranged, autoattack carry or int caster who has a suite of slows and AoE Dots (damage over time) effects. His E makes for excellent lane harass, last hitting, and denying, while his ult has incredible damage potential, but by the nature of being a debuff, is countered by parralax or other debuff immunity skills. Max Q or E first for the early game damage. Note that his W can heal structures/towers. Run 4/1/1 talents, taking attack damage, attackspeed, lifesteal, haste, health, and max energy/regen, as his ult has a steep mana cost early on.